As a die-hard LEGO fan, it's getting pretty hard to find someone who isn't charmed by the appeal of its iconic mini-figures and beautiful building sets. With digital games taking over kids' playtime and traditional toys losing their shine, LEGO's staying power is seriously impressive. You'd think a company selling bricks would be a relic of the past, but LEGO has defied the odds and remained totally relevant in this digital age.
The truth is somewhat different. In fact, by 2013, LEGO was heavily impacted by the changing landscape and got into big trouble. After posting profit after profit since its founding in 1932, LEGO was now faced with US$800 million of debt, and 30% year-on-year sale droppings since 1998. It was clear that LEGO needed change. To help address the crisis, LEGO hired consultants to help turn the company around. Their advice: LEGO needed to diversify – the brick had been around since the 1950s, and it had become obsolete. LEGO took the advice – it started its own video games company, opened theme parks, introduced jewelry for girls and started selling LEGO clothes. This turned things from bad to worse, and the company almost went bust.
Fast-forward to 2022. With a brand value of nearly US$8.6 billion, LEGO is now the world's most valuable and strongest toy brand. It has an exceptional Brand Strength Index (BSI) score of 90.6 and a corresponding brand rating of AAA+. This exceptional turnaround has been hailed as one of the greatest turnarounds in corporate history. If "moving with the times" didn't do the trick, then what did?
LEGO's Revival
While LEGO's revival is a story of many changes, 3 changes in particular are hailed as the most impactful changes leading to its turnaround.
First, LEGO refocused on the brick, and dropped every side-product.
Second, they sharpened focus even more by slashing the inventory, halving the number of individual LEGO pieces.
Third, – and this is what I want to focus on in this blog post – it went all-in on interaction with LEGO's fans, including the crowdsourcing of products – something previously considered verboten. To make this tangible, LEGO launched its LEGO Ideas website to solicit new products from fans worldwide. Originators of winning ideas would get 1% of their product's net sales.
Fans as A Driving Force
With LEGO Ideas – which is still going strong to this day – LEGO effectively opened up its design department to the whole world, turning the entire LEGO fanbase into its creative pool. So far, 30 LEGO sets that originated on the LEGO Ideas platform were released as official LEGO sets.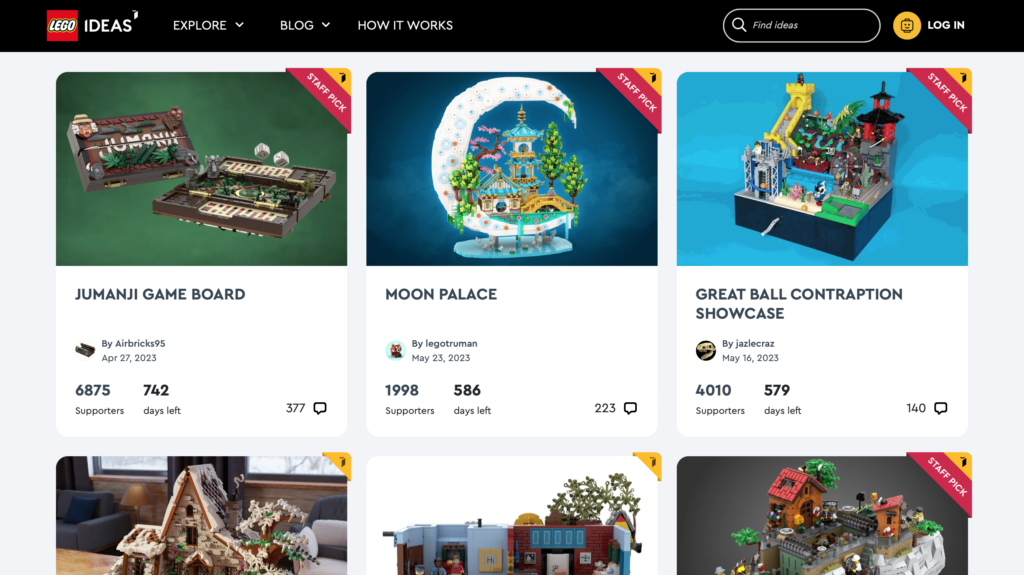 For those not familiar with LEGO Ideas: it follows a fairly simple, community-driven process of idea submission and review.
Phase 1 – Idea Submission
"Got a great idea for a LEGO set? Share it with us!". That is the message LEGO sends with its open LEGO Ideas platform. Submitting an idea is as simple as describing the idea, and uploading a sample model that demonstrates the concept. As soon as the idea is submitted, it is shared with the entire community.
By enabling the open sharing of ideas, LEGO not only gets insights into fans' interests but also gains immediate access to detailed concepts that cater to those interests. What's more, the open nature of the platform encourages a creative exchange among fans, inspiring them to generate even more imaginative ideas as they see and build upon each other's contributions.
Phase 2 – User Voting
As soon as an idea is published, the entire community can vote on the ideas it likes best. When certain thresholds are met, the idea is sent to the LEGO Ideas review team. This review team then rates the concept based on how well it suits the LEGO brand, and whether it complies with the community and product rules.
Allowing the community to vote is a clever way for LEGO to quickly identify how much support a concept has, and get a first indication of its sales potential. On top of that, it serves as a system of instant gratification towards the idea submitters. Even if a submitter's idea doesn't make it into a final product, he/she has been able to show their idea to the world, and enjoy immediate feedback from fellow LEGO fans. This in itself strengthens the community and engages submitters to come back and try other ideas.
Phase 3 – Review
All eligible projects are collectively reviewed in the order of whichever projects hit the supporters threshold within the given deadlines. When an idea is rejected, LEGO provides clear, publicly visible feedback on why the idea was rejected. Over the years, LEGO has refined its submission standards to increase the rates of relevant submissions.
By transparently reviewing the ideas and circling back to the community, LEGO effectively opens a communications channel allowing fans to better understand what the LEGO brand is about and what qualifies as a LEGO product, and why. This creates an ever-learning community of people who, over time, will understand LEGO's brand so well that they become a spiritual member of the LEGO creator family.
Phase 4 – Production
Once a concept is cleared for production, it is further developed by LEGO set designers and the final model gets released as an official set under the "LEGO Ideas" banner. Users that have their concepts produced receive ten copies of the final set, as well as a 1% royalty of the product's net sales and credit and bio in set materials as the LEGO Ideas set creator.
In 2020, a record 61 projects qualified for review. LEGO cited the sudden increase in projects surpassing the vote threshold was likely due to the global lockdown amidst the COVID-19 pandemic.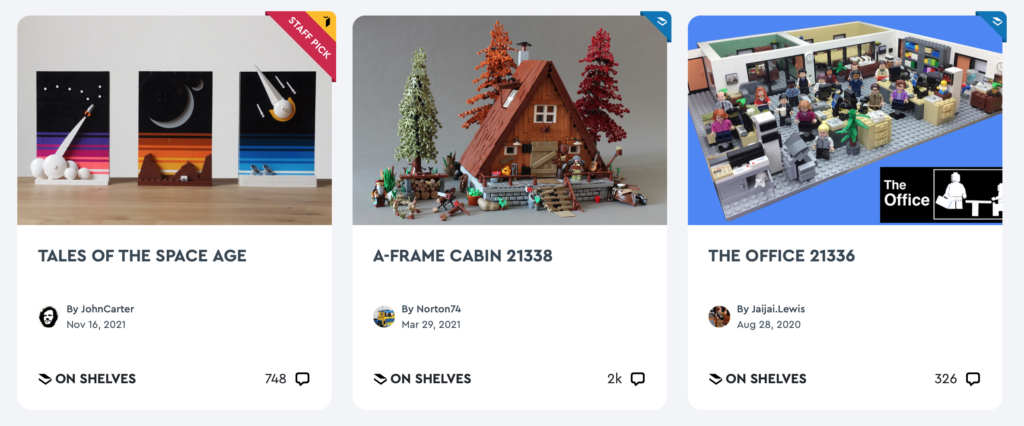 So What?
LEGO Ideas isn't only an important part of LEGO's revival, it is also a driving force that helped turn the brand into a phenomenon. And while consumer-driven innovation doesn't apply to all businesses, there's countless businesses that seem to forget that their employees are consumers too.
Collaborative Innovation is one of the secrets to staying in touch with your customers and unlocking their creative genius. It's about working together, bouncing off ideas, and letting their imagination shine. By fostering Collaborative Innovation, you give your customers the chance to shape the direction of your brand and let their creativity flow freely. And as LEGO's story illustrates, it's not always about the big, disruptive stuff. Often it's just a matter of focussing on less, and making sure that focus is sharpened by the insights from the best consultants you can hire: the people connecting with your company each day.