Today, we live and operate in an era characterized by constant change. Organizations face increasingly complex challenges. To remain competitive, they must continually adapt, evolve, and innovate. In navigating this ever-shifting terrain, companies lean on a diverse ensemble of key roles, "Innovation Masterminds." These roles collectively foster a culture where creativity and ideas not only survive but also flourish. Among these pivotal Innovation Masterminds, the first and fundamental figure in the organization's journey toward success is the Innovation Manager.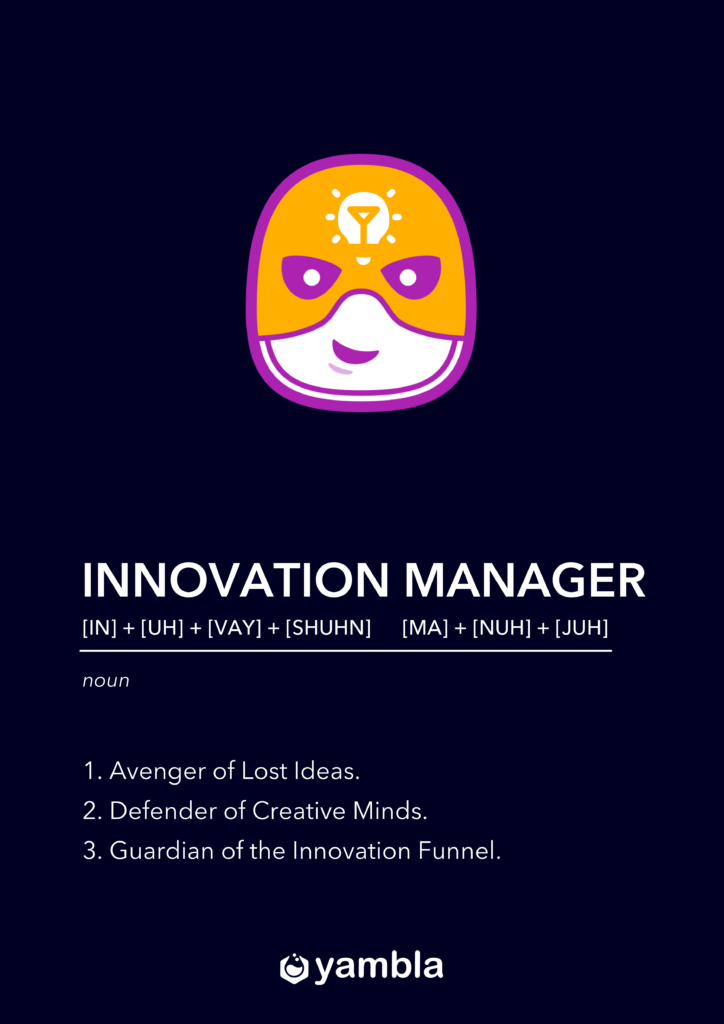 Avenger of Lost Ideas
A frequently overlooked aspect of the Innovation Manager's role lies in their capacity to serve as a bridge connecting the past and present within organizations. Although the primary responsibility of an Innovation Manager revolves around nurturing fresh ideas and initiatives, their ability to fully realize their potential hinges on maintaining a connection with the organization's historical context.
They excel at recognizing, reviving, and advocating for innovative ideas or concepts that may have slipped through the cracks, been discarded, or forgotten within the company's history or archives.
This makes them the "Avenger of Lost Ideas". Here's a more detailed explanation of what this part of the Innovation Manager role entails:
Idea Resurrection: The Innovation Manager is responsible for digging through the company's historical records, past projects, and forgotten proposals to unearth innovative ideas that were never implemented or were abandoned for various reasons.
Idea Evaluation: Once these lost ideas are rediscovered, the Innovation Manager must evaluate their potential and relevance in the current business landscape. Some ideas may need to be updated or modified to fit the present context.
Championing Innovation: The Innovation Manager takes on the role of a passionate advocate for these resurrected ideas. They work to generate interest and support within the organization for these previously overlooked concepts.
Collaboration: This role involves collaborating with various teams, departments, and stakeholders to refine, develop, and potentially implement the lost ideas. It may require cross-functional teamwork to bring these concepts to life.
Risk Mitigation: The Innovation Manager also needs to assess potential risks and challenges associated with implementing these ideas and develop strategies to mitigate them.
Tracking Progress: Continuously monitoring and tracking the progress of these revitalized ideas is essential. The Innovation Manager should measure the impact of implementing these ideas and make adjustments as necessary.
Documentation: Properly documenting the process of reviving and implementing lost ideas is crucial for future reference and organizational learning.
In general, the Innovation Manager holds a commitment to maximizing the value of past creative thinking and maintaining a culture of innovation within an organization.
A deep understanding of an organization's historical context is essential for fostering creative thinking and maintaining a culture of innovation within it. When Innovation Managers possess this knowledge, they can better appreciate the evolution of ideas and strategies that have shaped the company's journey. This historical insight not only enriches their creative thinking but also provides a solid foundation for nurturing innovation.
By recognizing, reviving, and advocating for innovative ideas or concepts that may have been overlooked or forgotten within the company's history or archives, these managers breathe new life into the organization's heritage. This process allows companies to tap into a wealth of untapped potential while staying true to their unique identity and the valuable lessons learned along the way. Consequently, they can remain at the forefront of innovation in their industry, leveraging the power of both their past and present.
Defender of Creative Minds
The Innovation Manager role goes beyond the mere management of ideas, but also about being an inspiration and source of trust for innovators. To ensure an environment where ideas are sThe role of an Innovation Manager extends beyond mere idea administration; it also involves serving as a wellspring of inspiration and trust for innovators. In order to cultivate an environment where ideas are freely exchanged and can thrive, the Innovation Manager bears the responsibility of being a source of inspiration and placing a strong emphasis on the protection and nurturing of innovative and creative talents within an organization.
This role is centered on creating an environment where creative individuals can thrive and contribute their unique ideas and perspectives effectively.
This is why we call them the "Defender of Creative Minds" and a summary of what that part of their role entails:
Fostering a Creative Culture: The Innovation Manager plays a pivotal role in cultivating and sustaining a culture of creativity and innovation within the organization. This involves creating an atmosphere where employees feel encouraged to think creatively and outside the box.
Talent Recognition: Identifying and recognizing individuals with creative potential and innovative ideas within the organization is a primary responsibility. This may involve actively seeking out creative minds or establishing programs for employees to showcase their creative thinking.
Advocacy and Support: Serving as an advocate and mentor for creative employees, the Innovation Manager provides support, resources, and opportunities for their development. This includes offering guidance, mentorship, and access to tools or training that can help individuals nurture their creative abilities.
Idea Protection: The Innovation Manager takes steps to protect the intellectual property and ideas generated by creative individuals, ensuring that their contributions are acknowledged and properly credited within the organization.
Collaboration Facilitation: Encouraging collaboration between creative individuals and other teams or departments is essential. This may involve bridging communication gaps, facilitating cross-functional brainstorming sessions, and promoting interdisciplinary collaboration to bring creative ideas to fruition.
Conflict Resolution: Creative minds often encounter resistance or conflicts within traditional corporate structures. The Innovation Manager acts as a mediator and problem solver, addressing conflicts that may arise and ensuring that creative talents are not stifled by bureaucracy or opposition.
Recognition and Rewards: Implementing systems for recognizing and rewarding creative contributions is crucial. This may involve incentive programs, awards, or promotions that acknowledge and celebrate the work of creative individuals.
Continuous Learning and Improvement: The Innovation Manager is committed to promoting a culture of continuous learning and improvement. This includes encouraging creative individuals to refine their skills, learn from failures, and adapt to changing circumstances.
Tracking Impact: Regularly assessing and tracking the impact of creative contributions on the organization's goals and objectives is vital. This data helps demonstrate the value of creativity and innovation to the organization's success.
Overall, the Innovation Manager's people-driven purpose is about championing the individuals and/or teams behind innovative ideas and ensuring they have the support and environment they need to thrive. By protecting and nurturing creative talents, this role can contribute significantly to an organization's long-term success and its ability to innovate effectively.
Guardian of the Innovation Funnel
We all understand that innovation programs don't mean much unless ideas actually get put into action. So, the most important part of the Innovation Manager's job is focused on overseeing and optimizing the entire process through which innovative ideas are generated, evaluated, developed, and eventually brought to market or implementation.
This is why we call them the "Guardian of the Innovation Funnel". Here's a breakdown of what the role of what this role entails:
Innovation Funnel Management: The guardian is responsible for managing the innovation funnel, which represents the flow of ideas from inception to execution. This includes defining and refining the stages of the innovation process, such as idea generation, screening, development, testing, and implementation.
Idea Collection: Actively collecting and curating a variety of innovative ideas from employees, customers, partners, and other sources to ensure a continuous flow of potential innovations into the funnel.
Quality Control: Ensuring that only high-potential and strategically aligned ideas enter the innovation funnel. This involves setting clear criteria for idea selection and conducting rigorous evaluations.
Resource Allocation: Allocating resources, including budget, talent, and time, to different projects and initiatives within the innovation funnel based on their potential impact and alignment with organizational goals.
Cross-Functional Collaboration: Promoting collaboration and communication between different departments and teams involved in the innovation process. This includes coordinating efforts between R&D, marketing, product development, and other relevant functions.
Risk Management: Identifying and mitigating risks associated with innovation projects, including technical, financial, and market-related risks, to ensure that resources are used effectively.
Progress Tracking: Continuously monitoring the progress of projects as they move through the innovation funnel, ensuring that they stay on track and meet milestones and objectives.
Iterative Improvement: Implementing feedback loops and mechanisms for continuous improvement within the innovation process. This includes learning from both successes and failures and adapting the funnel accordingly.
Strategic Alignment: Ensuring that the innovations emerging from the funnel align with the organization's strategic goals and long-term vision.
Stakeholder Communication: Keeping stakeholders informed about the status and outcomes of innovation projects and fostering a sense of transparency and accountability.
Measurement and Evaluation: Establishing key performance indicators (KPIs) and metrics to measure the success and impact of innovation initiatives, and using these data to make informed decisions.
Resource Optimization: Regularly reviewing and optimizing the allocation of resources within the innovation funnel to maximize the return on investment and drive innovation efficiency.
In essence, the Innovation Manager role involves the management of the entire innovation process, from ideation to execution, with a strong focus on ensuring that the most promising and strategically relevant ideas are developed and implemented effectively. This role is instrumental in driving an organization's innovation efforts and maintaining a structured and efficient approach to innovation management.
Do you thick all the boxes?
In conclusion, the role of an innovation manager is multifaceted and vital in today's ever-changing business landscape. It encompasses not only the management of ideas but also the cultivation of a culture where innovation thrives, the revival of forgotten concepts, and the nurturing of creative minds. As we've explored the various dimensions of this role, we invite you to reflect: Do you believe you possess the qualities and capabilities to check all the boxes required to be an effective innovation manager?
Consider your ability to inspire, protect, and champion innovative ideas, your capacity to connect the past with the present, and your dedication to fostering a culture of innovation. If you find yourself drawn to this role and the potential it holds for driving positive change within organizations, perhaps you have what it takes to step into the shoes of an innovation manager. Embrace the challenge, nurture your skills, and continue to explore the dynamic world of innovation. The future of organizations and their ability to adapt and thrive may very well depend on individuals like you who are ready to lead the way in the ever-evolving landscape of innovation.